coworking
About Coworking Space.
It's more than just a space to work
Dtec is a creative coworking space in which to set up a new business in Dubai, collaborate, network and realise your business ideas. Our affordable business setup packages offer a unique location to start your entrepreneurial journey in one of the most innovative countries in the world.
Our flexible plans offer hot desk coworking, fixed desk and private office workspaces, accommodating both the individual entrepreneur and more established startups. All of our plans are priced annually so once we've helped you set up your new business in Dubai within the Dubai free zone of DSO, you're free to think about the more important aspects of running your business and executing your business ideas.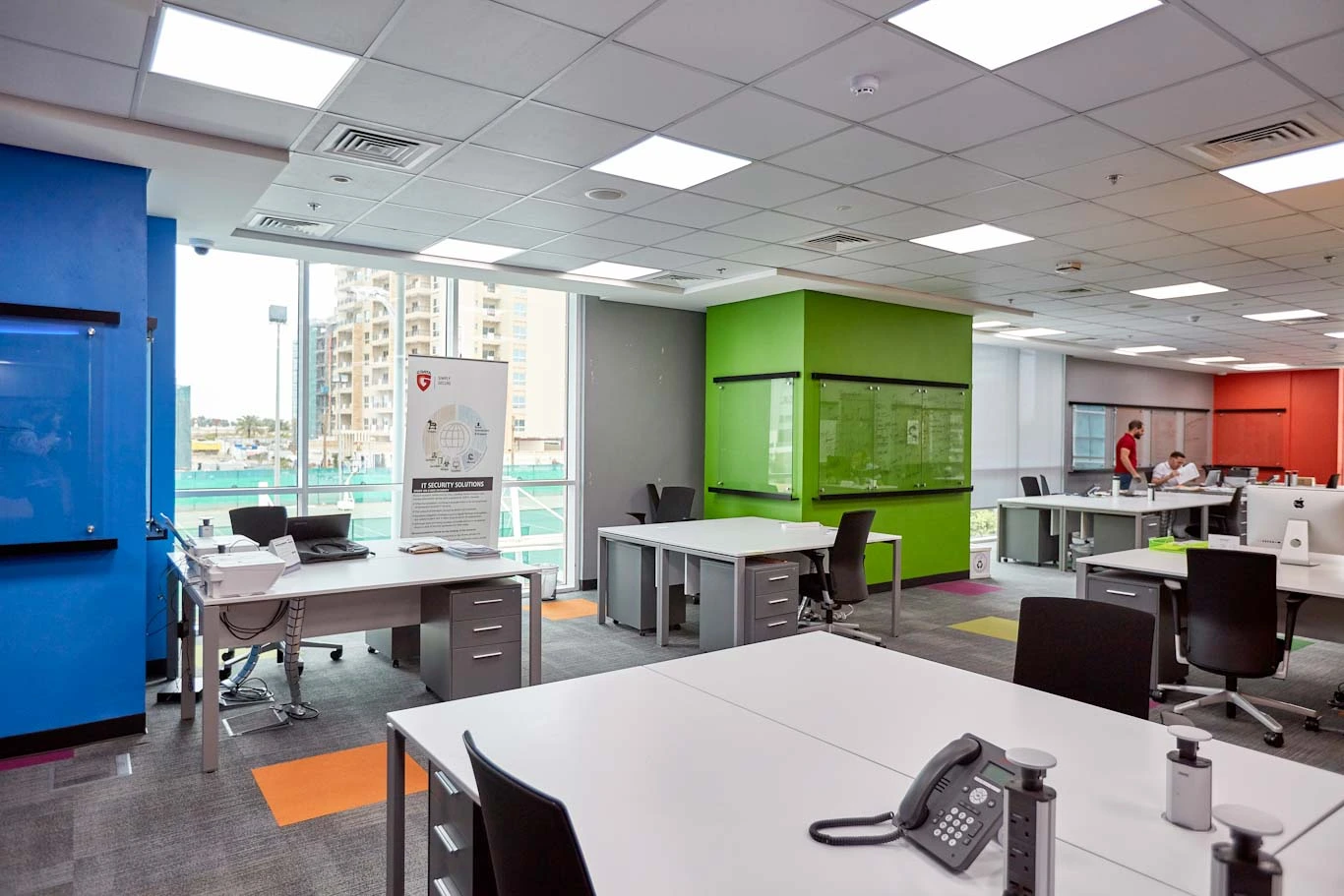 Looking for shared office space in Dubai? Look no further than Dtec.
Our shared office space in Dubai offers much more than a desk. When you set up here, you'll benefit from a host of amenities, all designed to enhance your working day.
From high-speed Wi-Fi to meeting rooms, a café, and even a games room, we've got everything you need for a professional yet relaxing business environment.
What are the benefits of a Dtec coworking space in Dubai
Whether you opt for the flexi desk or fixed desk, you'll reap all the benefits of working in our prestigious coworking space in Dubai.
Along with state-of the art business facilities, working in our shared office space offers up numerous opportunities for networking and mentoring.
With Dtec as your base, you'll have access to the largest technology innovation hub in the MENA region. Our 10,000 sqm creatively designed workspace hosts an integrated ecosystem with hundreds of startups, SMEs and technology entrepreneurs from around the world.
As well as a great coworking space, Dtec is home to a vast network of mentors, advisers, and educators, with many receptive to collaboration, pitches and investment opportunities.
Along with organic opportunities to engage and collaborate, Dtec also runs a range of formal events, including the Dtec Forum, corporate partner events, an annual pitch competition, and several acceleration programs.
This is much more than a shared office space in Dubai – it is a ready-made network designed to help your business flourish.
Flexi desks Dubai
Flexi desks are a popular option for entrepreneurs and business owners who wish to keep initial overheads low.
When you sign up to a flexi desk package, you'll get access to our coworking space in Dubai, along with a host of other great benefits.
As is the case with all our office solutions, the flexi desk package includes full company setup along with the use of our workspace. With the flexi desk option, you can set up in any of our shared areas. Simply bring your laptop, grab a free desk, and get to work.
The flexi desk package gives the option of up to two residency visas per flexi desk and numerous on-site business facilities. Flexi desk facilities include high-speed Wi-Fi, free tea, coffee and water, 24-hour site access, secure lockers, and ample parking.
On top of this, you have the option to book meeting and conference spaces, as well as having access to professional advice and networking events.
Fixed Offices Dubai
Looking for a professional workspace without the expensive overheads? Try our fixed office package. Take advantage of fast, affordable company setup, along with your own fixed desk in our prestigious coworking space.
As well as your workspace, you can also benefit from 24/7 site access, lockable storage, high-speed Wi-Fi, ample parking, and access to a range of business services including printing and copying.
The fixed office package gives you the option to apply for up to three visas per desk.
Private Office Dubai
Are you looking for a little extra privacy? Rent a small office at Dtec.
Our private office package offers fast and affordable company setup, along with your very own furnished or unfurnished office between 12-50sqm.
These private offices include all utilities as well as free high-speed Wi-Fi or wired internet, the option to install a landline telephone, and the use of additional services, including printing, bookable meeting spaces, securable lockers, professional advice & events.
As well as your own private office, you'll get 24/7 site access, ample parking, and free refreshments.
Our furnished offices come with visa eligibility with a generous visa allowance based on the space taken.
Short-term leasing options
Dtec also brings you access to desk space and office facilities without a contract. Our short-term leasing options are perfect for freelancers, travelling business people, students, and anyone who wants a break from working from home.
This flexible coworking option is not part of a company setup or visa package. So, now you don't need to start a business with us – or even be a tech entrepreneur – to get the benefits of working at Dtec.
Coworking desk rental prices
*Standard office rates. Premium office locations will carry a higher m2 rate.
Want to know more?
Dtec is a technology, entrepreneurial and innovation hub like no other. A complete startup ecosystem.
Ours is a one-stop-shop, designed to make starting a new business in Dubai both simple and convenient.
With 100% business ownership, visa processing, 24/7 access, high speed Wi-Fi, and a range of creative meeting and events spaces, Dtec has everything you need to launch and grow your business. When you partner with us, doing business in Dubai has never been easier. Click here to find out more.
Featured Amenities
Included Amenities
You focus on growing your business, we take care of the rest

HIGH-SPEED WIFI

EASY FREEZONE BUSINESS SETUP

VISA SERVICES

24/7 ACCESS

FREE TEA & COFFEE

BOOKABLE MEETING ROOMS

PROFESSIONAL & SOCIAL EVENTS

Unique Common Areas

GAMES ROOM

Private phone Booths

CAFÉ

AMPLE PARKING

STORAGE LOCKERS

P.O. BOXES AVAILABLE

PARTNER LABS

CORPORATE PARTNER NETWORK

UTILITIES INCLUDED

SHOWERS

MENTORSHIP

ONLINE COMMUNITY MEMBERSHIP

ACCELERATION PROGRAMS

INVESTMENT OPPORTUNITIES

ANNUAL PITCH COMPETITION

Printing & shredding

Networking opportunities
Photo Gallery
Filter By :
All
Dedicated Desk
Hot Desk
Office
Get In Touch
Join the Dtec community
The Dtec team is interested in you and we would like to know what we can do for you. Are you just as curious? Do you want more information, to drop by or simply ask a few questions? Please complete the form below and we will contact you as soon as possible.